October 10, 2022
Bitsens is selected among top European innovators and was shortlisted by the European Commission's Innovation Radar initiative to compete for the EU's Innovation Radar Prize 2022. The selection is made out of thousands of EU-funded companies.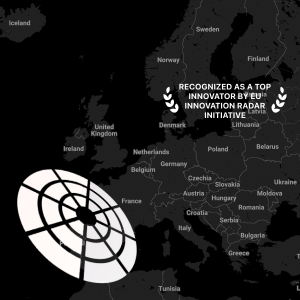 Bitsens was recognized specifically for evidence- and theory-based mental and physical non-medication wellbeing interventions project offering personalized comprehensive management to patients.
For more than 2 years already we've been participating in the R&D MedTech project sponsored by EU Horizon, providing UX/UI design services and development. We possess a high-end team that is well-versed with every latest technology and determined to deliver the best quality services under strict deadlines and challenging requirements. And therefore, we're very proud that our team's efforts caught the attention of the Innovation Radar. 
About Innovation Radar 
Since 2015 the European Commission has been awarding the annual Innovation Radar Prize to the best EU-funded innovators, highlighting them to the EU's investor community. The Innovation Radar's intelligence is used to discover innovators who will compete for the award.
The European Commission and Dealflow.eu co-organize the Innovation Radar Prize, and the finalists receive pitch preparation assistance as well as broader market support. Dealflow.eu supports Innovation Radar by providing assistance to high potential inventors identified by Innovation Radar.
The Innovation Radar is the European Commission's initiative to identify high potential innovations and innovators in EU-funded research and innovation projects.  The main goal of the platform is to make it possible for everyone to discover the outputs of EU innovation funding and give them a chance to look for innovators who could one day follow the success of many prominent IT companies, all of whom received EU funding in their early days.
Furthermore, by increasing access to such information, the platform fosters the establishment of a vibrant ecosystem of incubators, entrepreneurs, funding agencies, and investors that can help bring new technologies to market faster.
The Innovation Radar platform is based on information and data obtained by impartial experts who are analyzing ongoing EU-funded initiatives (for instance, Horizon Europe, Horizon 2020, LIFE, Framework Programme 7 (FP7), or the Competitiveness and Innovation Programme (CIP)). These experts also offered an unbiased assessment of the ideas' originality and business prospects.