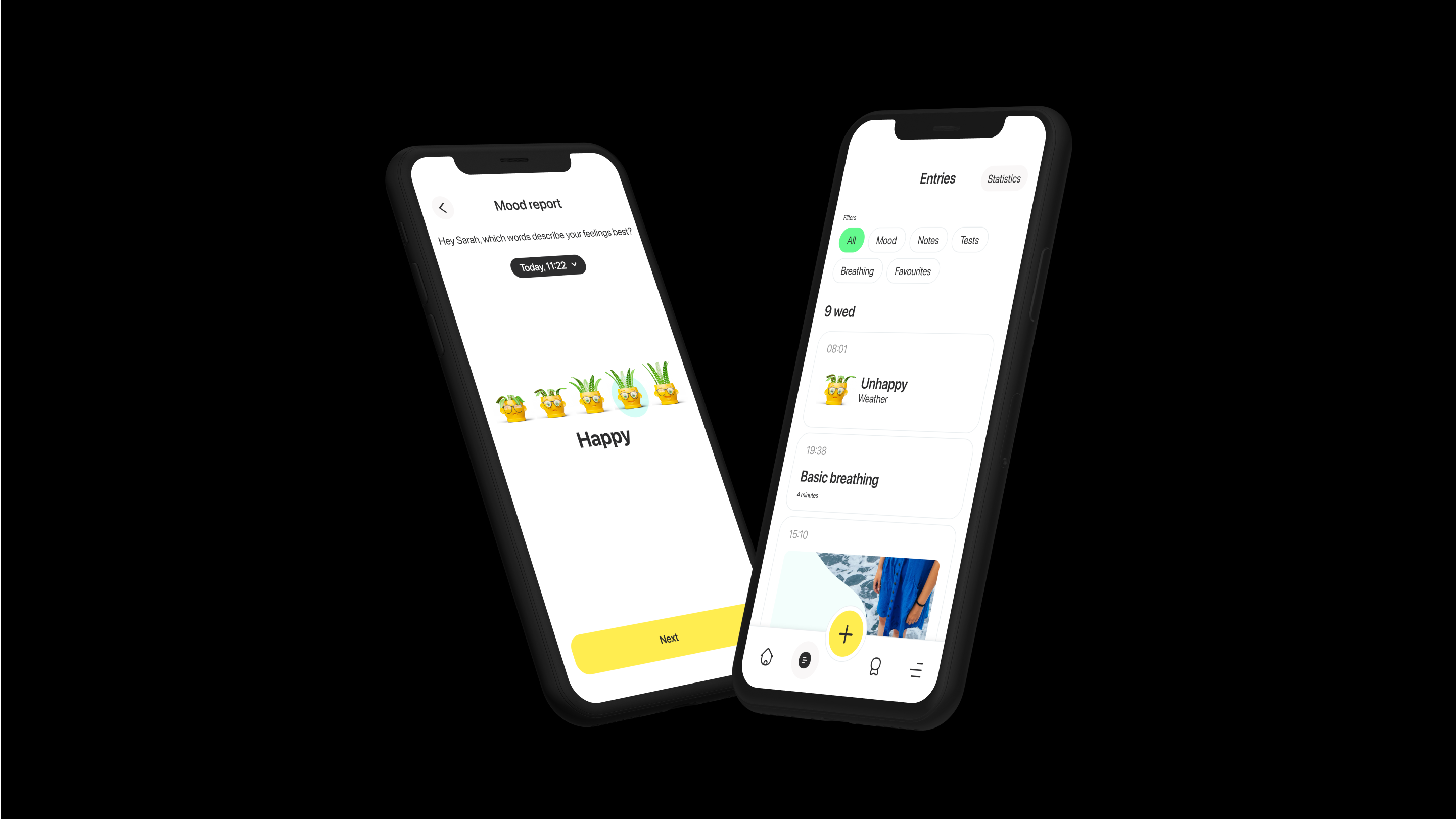 Mentalio - AI Mood Journal is a useful aid to the quality of life - in your pocket. It is a mental support application designed to help people with depression, stress, and anxiety through clinically proven methods and techniques.
Our expertise in the project
Flutter development IOS /Android
Scientific research in collaboration with Stanford University and Haifa University Professor
App Store Optimization
Art Direction
Copywriting
Business Analysis
Startup Development
User Experience Design
User Interface Design
Illustration
Project Management
QA
Solution
According to the Mental Health Worldwide report, released by Statista in 2022, the percentage of adults worldwide who stated mental health was the biggest health problem in their country reaches 31%. Globally, the quantity of people that suffer from mental health hits the number of approximately 970 million. Among them, 3.6% are suffering from depression in particular. 
Addressing this issue, Bitsens created AI-powered mobile application, a tool to help anybody to improve his mental health by means of guided affirmations, mood reporting, 9 types of breathing practice, regular journaling and anxiety / stress / depression tests. Together with all the above-mentioned, the user receives daily, weekly, and monthly overviews with personalized insights and reminders, as well as the possibility to read educational materials on mental health-related topics. 
So, how does it work? When you use the app it collects and analyses plenty of data categories (mood, time of the day, circumstances, test results, overall activity and many other parameters). Based on defined patterns, the app learns to understand you better and provides you with tailored tips and recommendations. What's more, in partnership with the professor of Stanford and Haifa Universities, we've developed a specific technology which generates hundreds of tips and recommendations based on clinically and scientifically validated techniques and methodologies. 
While making the app, Bitsens used the expertise obtained in terms of the European Union's Horizon 2020 MedTech R&D project (CAPABLE). As the company actively participated in research and development together with patients, doctors, and professors, the company came to a thorough understanding of the scope of mental health problems all over the world. 
Mentalio is a completely advertising-free app that makes it stand out in the market of mental health mood trackers and gives it every chance to make your life better.
Mobile screens